Stop Dieting & Live Your Best Life
Get coaching to develop a shame free relationship with food while finding authentic nutrition answers
Dieting does not work. Feeling out of control, frustration, and shame is not a way to live. You deserve to eat, enjoy food, and be healthy.
Discover Shame Free Eating
Stop dieting for good and learn to love yourself, enjoy food, and be authentically healthy.
Coaching Services
Online shame-free eating and nutrition coaching is provided in both one-on-one and small group formats. A detailed health assessment is completed and sessions are tailored to meet the specific needs of each individual.
Speaking
As a professional speaker Julie shares the concepts and strategies for shame free eating and authentic health in arenas ranging from professional associations, corporations, and universities to specialized nutrition forums.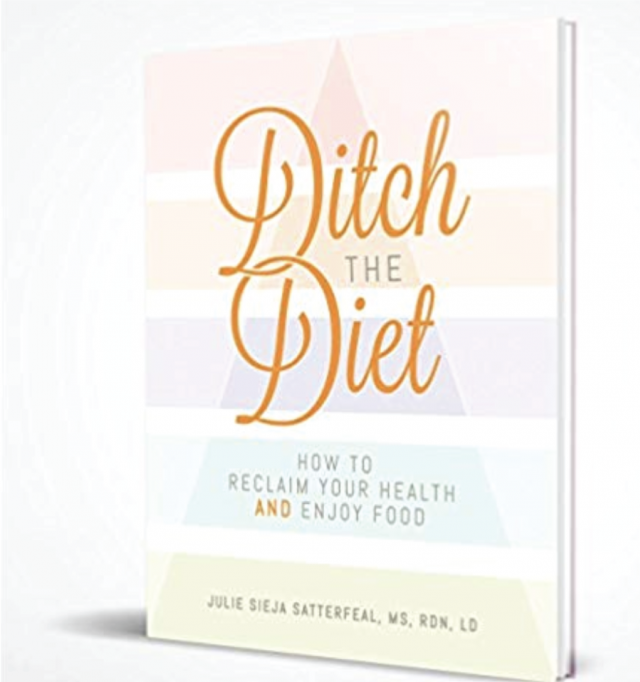 Ditch The Diet Book
Take Julie's words and wisdom with you. Ditch the Diet – How to Reclaim Your Health and Enjoy Food will explain the far-reaching negative consequences of dieting and weight cycling, and then lead you through five strategies to practice on a path to shame free eating and authentic health.
First Things First
We begin with the basics about dieting, the evolution of a dieter, & how our body, mind, and spirit are perfectly designed to keep us fed, not to restrict food.
The Fundamentals
We then take a close look at foundational principles like intuitive and mindful eating, allowing yourself to eat, and body acceptance.
Lasting Change
Finally we move into the more concrete concepts of building lasting habits and what authentic nutrition involves and looks like in your life.
My hope is for each person to find relief from dieting, have peace with food, and to be confident in their choices knowing they can be healthy at every size.
Schedule Your Free Discovery Call!